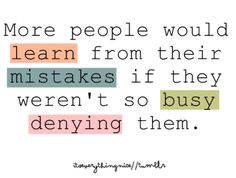 We made a mistake – responsible people would do what?  We know that they are going to be accountable to others for being on time, following through with their commitments, and if they make a mistake – do something about it.   Here is the 3 step process we have given our students to showing responsibility for their mistakes:
Admit it
Apologize
Fix it
I asked each student to tell me which of these would be the hardest to do.  Amazingly they were evenly split with each of the steps getting about the same number of votes for being the hardest one to do.  Which one do you think would be the hardest?
Now consider this scenario:  You yelled at a friend when you were tired.  How would you show responsibility?  First you would admit it and that may sound like, " I was wrong when I yelled at you yesterday.  I feel bad that I acted that way."  Second you would apologize and that may sound like " I Am Sorry", each word sounded out and emphasized the way you would like to make the person understand how you feel.  The third step is 'Fix It'  –  How would you do that?
Getting this conversation going with your children can help them to see how they can accomplish doing what is required, needed or expected of us.