When I use the word, "actor", I apply it very broadly because my worldview was shaped almost simultaneously with my introduction to acting principles. When I am speaking in "big picture" terms as I am in this article, when I say actor, I am referring to "one who takes action", in every sense of the word. Not just the person on stage, but the people in the tech booth that let us see and hear them, the audience members that made the choice to be there, the person who speaks out against the mean girl or the playground bully, the person who argues for legislation and regulations in order to put an end to human trafficking. All of these people are confident actors. Below are three signs of confidence in a person that are taught through acting.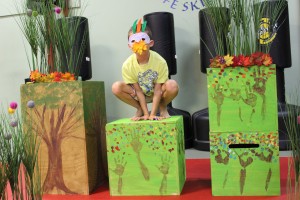 They are not afraid of being wrong. They do not stubbornly assert their position
ACTING SKILL:
Collaboration – Actors communicate their ideas and make strong choices but they are prepared to make adjustments and improve on themselves for the good of the group and their work; and most importantly, its impact on the world.
SIGN OF CONFIDENCE:
They recognize others good work.
ACTING SKILL:
They do not hog the spotlight.
SIGN OF CONFIDENCE:
They easily connect with other people and are not intimidated about reaching out to more accomplished people for help.
ACTING SKILL:
Find ways to connect with your character and your scene partner. This is achieved through understanding and creativity. It is important to understand what your character needs, wants, and fears. Then you need to have the creativity to relate to it.
SIGN OF CONFIDENCE:
They are not afraid to look silly.
ACTING SKILL:
They take risks in order to make strong choices on stage and always have fun!