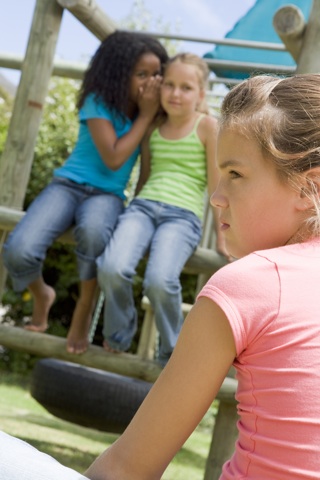 A child's confidence can be diminished very quickly when they become the target of mean behavior or words.  One of the worst things that can happen to a child is being made feel "less than" by others.  This is many times the results of others talking about them, making sly comments, or being made to feel unwelcome or not a part of the group.
As this kind of behavior can be directed to anyone, especially a young person, we want to encourage them to be sure to speak up to adults and ask for the help that they need.  Along with that,  choosing friends that are not taking part in that kind of behavior is a good idea too.  Many times though, this is not enough.
As an adult, if a child comes to us with these kinds of situations, we can be confused about what the right thing to do might be.  There is no one answer to that question, as every situation and child needs to be worked with individually.  However, there are a few things for us to remember and not all of them are easy.   Control of ourselves and our emotions is key to do what is best for our children.
First, we must remember this is our child's situation and our place is to protect them, but not take the problem over as if it is ours.
Second, what the target of this kind of behavior needs more than anything from us is to know that we understand their feelings.  So before you start getting all the details, be sure that you give your child as much time as they need to express themselves. (this is the hard part, because parents will want to jump right in and fix it)
Third, find out what your child would like to see happen and what they want to do or what they think might help the situation.
Fourth, help them weigh out their options, choose one and then practice it with them.
Fifth, follow up with how they are feeling, how it is working and what they want to do next.
Nobody has the right to make anyone feel less than or unworthy.  We have to understand though that bullying behavior is going to take place until we are able to create a culture of kindness and peace in our families, schools, and communities.  Having a 'zero tolerance' policy does not work in any community situation.  Changing culture of the community, where those in the community stand up and say – in our class, in our school, in our community – we do not treat each other in that manner, is what does work to eliminate confidence reducing behavior.  Are the teachers in your school making this the norm for the classroom?  The confidence level of your son or daughter may be at stake.
Anyone in our community that is dealing with a situation like this may consider working with a bully prevention expert like Joe Van Deuren at Balanced Life Skills.