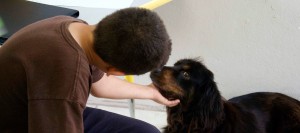 Compassion is not just action taken to help our fellow humans.  Teaching compassion might be more easily accomplished by teaching our children about the care of and compassion for, first the animals in their life and then for other animals that may not be a part of their daily life.  There are some who say that anyone that is cruel to an animal – cannot be good to fellow humans.
How can we impress on the young people in our lives the importance of taking care of and looking out for every living thing?  The three big areas of mission for Balanced Life Skills does this with first:
Awareness:  helping our young people to be aware of the needs of living things, how to demonstrate kindness to their own pets and developing relationships/connection with the animals around them.  Even going to the zoo and learning about the animals and the problems that might be facing them, will help to make them aware of the need for action.
Compassion:  Taking action.  With their own pet, they can be responsible for their care, playing, feeding etc.. But action may also be on a larger scale with support for groups who are protecting animals in the wild from poachers.
Respect:  By demonstrating respect for our own environment, reducing, re-using, recycling, planting trees, refraining from littering and cleaning up areas that are the homes for wildlife.  This kind of example of respect for our youth, sets the tone they can live by.
One of the best models of this kind of education I saw in action in Vieques, PR and then learned more about as I researched the model they were using.  It is called Humane Education.  If you want to learn more check out the website:   Institute for Humane Education http://humaneeducation.org/    To see the application in Vieques, PR check out their website: http://juntosvieques.org/
I have personally supported this program after seeing it in action.  They have been able to reduce aggression in schools and the thought is that in the long run this kind of education will also reduce even domestic violence.  Truly a worthy ACTION.