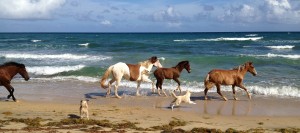 I have just returned from vacation in Vieques, PR – a small island with much the same problems that many of the islands have, well really many areas have.  As a member of the Rotary, I attended a Rotary meeting, just as I did this past summer, to see one of their projects doing very well.  The local Rotary, along with other concerned citizens of Vieques started an education program for the students called "The Vieques Humane Education Program".
What is humane education?
Humane Education allows people of all ages to understand the importance of living in a world where all life is revered and respected. It can indeed change the way people perceive themselves, their surroundings and other life.
I was so impressed with this work that I asked if I could bring back an opportunity to support the work with me to our area.  The group in Vieques is doing a raffle drawing for a 3 day trip to the island.  The trip will include:
accommodations
private concierge
transportation from the main island of PR
rental car
two dinners for 2 and cocktails
more…
The trip is redeemable from April 25 – November 27, 2014
I have 17 tickets available and can get more.  There will be 400 tickets sold for this raffle at $20 each.  If you are interested stop by or give me a call.  Want to learn more and Humane Education?  Here are some links.
Learn about the Vieques program – Juntos Humane Education Program  You can donate direct online here:http://juntosvieques.org/donate/