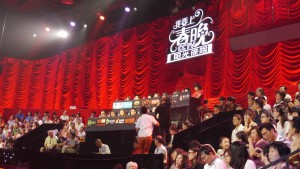 Hoping to be able to post more often again, as it seems things are calming down a little. I've spent much of this month running back and forth to Beijing filming TV segments, but that might be over now.
We advanced through two rounds of 我要上春晚 (I want to perform New Years Eve) and filmed a third, but we did not advance through the third and final round. My immediate reaction was disappointment, followed by optimism. "Hey!" I thought, "at least I will get to go home for Christmas!"
However, that silver lining remains in question, even doubtful. As I have mentioned, the TV producers in Beijing have changed dates on us again and again, and time and again we were on the verge of just dropping the whole thing because keeping going was so costly and uncertain. But each time they assured us that we would certainly advance to the Spring Festival Gala, these second and third rounds were just necessary formalities, so if we could just accommodate them a little more, everything would be fine. Now, one is left wondering if those assurances had any truth or if they were just manipulations designed to keep us on the hook.
What it comes down to is that neither my master nor I feel entirely certain, after the situation has already altered so shockingly so many times, that it won't do so once again. We are not deluding ourselves as to the nature of the TV people, nor as to the probability that we will be able to be on the spring festival show. Like Aesop's scorpion and frog, we know the nature of our companions in this venture. And we know that we are almost certainly not going to be in the gala. But I have decided to wait patiently for the last flicker of hope to die before I hop on a plane. And I don't know if that spark will be snuffed before Christmas.
I am sure some people will read this and think I am being naive, clinging to illusory hopes. On the contrary, I feel I am just doing what I should as a disciple. I personally think that the best thing for our Wudang culture and lineage is to carry on training good students to be good masters. But my master feels that it is the Dao that we take advantage of this high-profile opportunity if we can. Though it has been hard to do, if we can do it we will do more for Wudang kungfu's visibility than we could do with hundreds of thousands of dollars by another means. If you think about it that way, the annoyances I am going through are very small relative to what might be achieved. And I have a good life here, training and improving myself — I am not really losing anything by being patient.
Except maybe Christmas. So here's hoping I see you all at home for the holidays, and if not, I'll be back in February.
Oh, and here is the link to our second round. If you look closely, you can see me miss a cue because the speakers were right in my ears 🙂 Our part starts at about 32 minutes.
http://tv.cntv.cn/video/C21299/5875d1fc495049888018cc086e21e3f9