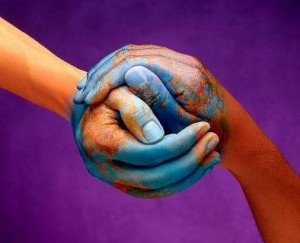 While we have spent a considerable amount of time discussing the needs we individually have to focus on our goals, to use focus to get our work done, and learning how to put distractions aside – today I would like to think about the need to focus on others. It is important that we focus on ourselves but there is also a need to consider the feelings, needs and requirements that others have.
Can you imagine being a parent that put their interests first, even before their children?  Or to work for a employer who was not able to appreciate the needs of an employee who had a family member who was sick? Understanding that we are all inter -related, that my actions affect others in my circle of influence, even affecting those that we may never meet or know that we are affecting.
Here is an example. If I own a business that pollutes the water, I will be effecting many others down stream of my business. On a more personal note, there are studies that say that if every American chose to skip eating meat one time per week, there would be enough grain to feed the entire world. If we focused on others by being aware that they may have circumstances or events taking place in their life that we do not know about, may change the way we react to them if they were short with us in conversation.
Focus on others is really just another way of say, . When a new student comes into your classroom or our school – ask yourself, "What would I want others to do to make me feel more wanted or valued? How can I make this person feel more welcomed?" If you are a child that sees someone being picked on, "What would help make them feel better, right at this moment and can I provide this for them?"
Focus on others is Empathy.