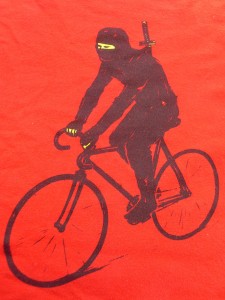 When I am home in Maryland in the winter, I use my bike to get around a lot. As much as I can, I like to get two short bike rides in every day, to and from work. This is not always possible and often when it is possible it remains impractical, but I really like it.
I like it because it is hard, and I find that it is important to make a place in my day to do something difficult, and something that is difficult in an all-absorbing way. When I am actually at work, I do many difficult tasks during the day but they never require much of my body – I am at a computer most of the time. Riding my bike demands physical, mental, and emotional attention. I am in motion, I am dodging cars, I am staying calm in the face of bad drivers. I am dealing with the elements: cold most mornings in January, but wind and rain on the bad days. These things are unpleasant but within my ability to overcome, and there is an emotional cleansing I find when I do overcome them.
I was thinking of this the other day. I had been having a grumpy day – my emotions were not as they should have been, and I couldn't seem to straighten them out. Word came down the pipe here at the school that we needed to wear our kungfu best and be at afternoon practice half an hour early. There was no reason provided, as is often the case here in China, but the order came from our older brother who got it from the school organizer who we must assume got it from someone he couldn't say "no" to.
Afternoon training wore on, and nothing happened. By 5:30 we had been training for three hours, we were missing dinner at the school, we were tired, hungry, and uncomfortable in our full uniforms in the hot weather. We still had no idea what was happening, but by 6:00 an important official appeared with retinue for a tour of the temple, and we demonstrated some of our kungfu.
As we were finally leaving the temple, hungry and tired, I realized that I was actually in the best mood I had been in all day – my grumpiness was gone. Somewhere in the process of dealing with actual, concrete adversity that made demands on my body, mind, and emotions, I had cleaned out the emotional grime that had built up in me.
We train kungfu constantly here, and sometimes we lose sight of it in the everyday repetition. It becomes an activity that we do with our body but not with the rest of us. But I think a main purpose of our training is to learn to put ourselves deliberately and completely into whatever task we are set, so that it in turn replenishes us and cleans out the little cares from our lives. I do it this with kungfu, and I do this on my bike in January.