When we change our thoughts and work on improving how we feel with how we talk to ourselves or changing our physiology we can shift our attitude from negative to a positive one. We may find though that no matter how much we are attempting to make these kind of changes that we are not getting the results we hoped for. There is one more aspect that may be one of the most influential on our attitude.
Who are we surrounding ourselves with?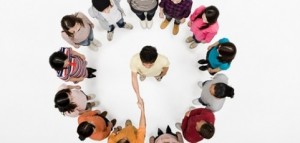 The people we surround ourselves with, spend our time with, affect our attitude and whether it is negative or positive. Negative people – those that are "looking" or "finding" all that is wrong or could be wrong, those that are angry at the world, complain constantly or tend to focus on the things that they do not like will affect us in a negative way. 
We can be affected the same way by the media we watch on television, video games we play, books and magazines we read, anything that we feed our mind and souls. If what we feed ourselves is negative we soon begin to take on those same negative way, only being able to see what is wrong and negative about ourselves and situation.
Why is this true? I will post the reason this happens and it may surprise you, in a post tomorrow.