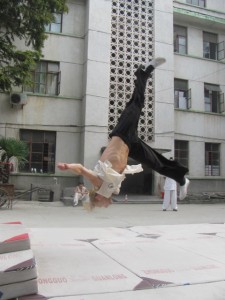 As of September this year, I have been training intensively in Wudang for three years. Full time training is such a luxury in one sense and such a burden in another. The opportunity to devote myself entirely to getting stronger mentally, physically, and spiritually is very rare and precious. However, everyday training quickly becomes like anything else — commonplace. It is easy to forget how lucky I am to be here doing what I am doing, and think only about the things I have given up in my devotion to this lifestyle. There are times when it seems I have given three years of my life, lost time with my family, spent all my money, and put normal growing up on hold for so long, all in exchange for just one thing to which it is much harder to assign value.
This past week has been a blessing in that respect. My master and many of my classmates went to Huangshan to the Fifth International Traditional Wushu Competition. I could not afford to go, so I had a week of much lighter training here at the school. It was a wonderful break after the past month plus, which has been filled with other performances and competitions. These are stressful because if there is a value in studying traditional martial arts, gold medals and looking good on a stage are not it. But in addition to a rest, my quiet week has reminded me of the treasures training has brought me.
For one thing, though the progress has been excruciating, I am indeed physically stronger than I was. And I have learned the value and the nature of hard work. For many years of my martial training, I watched those better than me with envy and despair. They made things look so easy. But three years of grinding repetition has made some things easy for me now. And I understand what it will take to reach the goals still before me; more work, sweat, grinding repetition, and above all, time.
Also, for much of the three years, Master has been pushing us to take more responsibility for our health. For years this frustrated me. It seemed like common sense to me that if I was exposed to a strain of cold virus to which my body had not developed immunity, I would get sick. Nothing I could do — just science, cause, and effect. Basic microbiology. How could I take responsibility for something like that? But this week I got a cold, and I knew even before I  showed any symptom that I had slipped up and with my behavior undermined my own immune system. And I realized that for a long time now I have been using sensitivity I have learned here to monitor my body and do what I needed to do to stay strong and not get sick. And it had been a long, long time since the last time I was.
These are just what I've been thinking about this week, hard work and responsibility. I am sure there are other things I have also learned. S0, my three years in Wudang have not been entirely fruitless 🙂