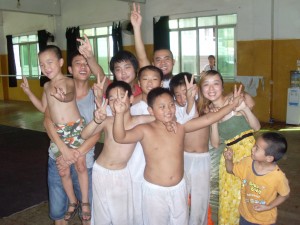 For the past three weeks, I was away from Wudangshan, teaching a summer program for kids at a new Wudang Kungfu school. My younger kungfu brother's new school is located in Yiyang city, in Hunan province. The summer program is a 40 day session, but because I am still a student and need to continue to work on my own kungfu, my classmate and I agreed to split the time in half. I did the first three weeks, he will do the next three weeks.
It was a pretty interesting experience. Over the last few years I have settled into the rhythm of life in Wudang, where we have a nice expat community to take the edge off of the culture shock of living in China. This assignment in Hunan was my longest period spent alone exposed to China. For three weeks, I saw no foreigners, I had no fluent English conversations, and I had to try to be comfortable with Chinese culture in all its unblunted glory. To make matters worse, Yiyang's local dialect is completely incomprehensible to me, and colors the local's Mandarin so strangely that even that is painfully difficult for me converse in.
The teaching itself was fine. I taught basic kungfu and English to a group of ten kids ages 8-11 for four hours a day six days a week. I am growing more and more comfortable as a teacher, though starting out with a fresh batch of students is always hard. They have no experienced students for role models to imitate. Every detail of training and behavior that is so ingrained in me requires real effort to remember to explain them. For example, being ready for class. Often we would start class, and the kids would still be in denim shorts (to tight to stretch or kick in) with no shoes on, and have not eaten breakfast though they had been sitting around for an hour previous doing nothing. In Wudang, the standard is set and understood, that when class starts, you must be ready to train and if you are not you must live with the discomfort. To have to step back and teach that surprised me. This is something that the kids' parents need to understand as well, but communicating with the adults was difficult for its own reasons.
Honestly, all my biggest problems were with the adults I dealt with down in Hunan. In my observation, mainstream Chinese culture seems at times to revolve around gaining face by pushing food, drink, and other indulgences on other people to demonstrate your own generosity and express your affection for them. The aspect of Chinese culture that I am studying, kungfu and Daoism, is much more healthy, restrained,  and disciplined. As a foreigner, it seemed impossible for me to make the adults I met appreciate these qualities in the way they treated me or the way they approached their children's studies. I constantly walked a line, trying to be friendly and help promote the fledgling school, and still trying to avoid all the cigarettes, beer, rich food, and excess that was so insistently thrust at me.
As I re-read what I have written, I think it is funny that an American is complaining about the excesses of Chinese people, American life being what it is. What can I say, it's the kungfu talking 🙂