Sunny and breezy, with beautiful mid-70 degree weather… this past Saturday was a terrific day to spend outside. Instead of hanging at the beach or lounging in a downtown coffee shop, I arrived bright and early at a build site in Baltimore City to partake in a house demolition and reconstruction job!
Volunteering for Habitat for Humanity has been a dream of mine, but taking off for a week to build a house abroad just never seemed feasible with work and school. Who knew that Habitat for Humanity has local chapters that allow you to volunteer for day jobs (about 7 hours) during the week and/or weekends? I didn't!
That is, I didn't know until I came across Habitat for Humanity of the Chesapeake during a routine internet exploration. Registration is a breeze, and the site offers information about lots of different volunteer opportunities. If you're not interested in labor-intensive work, maybe volunteering in the office will suit you better! You can request to do gardening and landscaping, or offer up your muscles for power tool duties. Either way, as long as you're 16 or older, there is a job available for you!
The local chapter, Habitat for Humanity of the Chesapeake, has about 6 different sites in Baltimore city that they are focusing on over the next few months. In addition to novice volunteers (like myself) at the sites on build days, there are Red Hats who are veteran volunteers that have gone through additional safety courses and commit to two build days each month, Americorps members who are on job assignments with Habitat for 11-month contracts, and site supervisors who are employed by Habitat for Humanity and provide volunteers with wisdom, friendliness, and tasks!
I had a WONDERFUL experience getting to know other volunteers and spending the day ripping out old windows and frames, and reconstructing the exterior walls! The experience was so wonderful that I have already gone online and  signed up for four more jobs over the next two months! If you, or anyone you know, have an interest in volunteering in your community, I highly recommend Habitat for Humanity of the Chesapeake.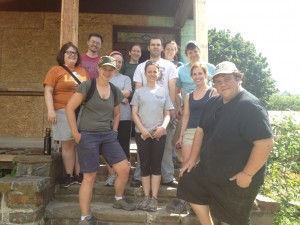 "Volunteering is the ultimate exercise in democracy. You vote in elections once a year, but when you volunteer, you vote every day about the kind of community you want to live in."
—Marjorie Moore