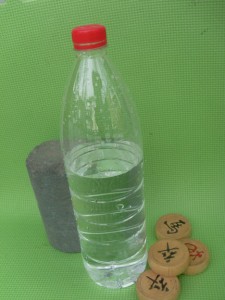 Last year I wrote in this blog about internal self defense, what it means and its importance. I focused on the power of emotion and the need to learn to protect oneself from negative feelings. This is a major thrust of my training here in Wudang, and I thought a little more discussion was in order.
Remember that in Daoist theory, a person is like a bottle filled with water. We are a container of vital energy. When we are born, that container is full. We spend that energy in our everyday activities, sometimes intentionally and more often through habitual leaks. When the bottle is empty, we die.
To continue the water bottle metaphor, this is a bottle that takes a lifetime to empty, so from day to day the change is so minute we might overlook it. Indeed, a person can go for years thinking they are as vital as ever, only to wake up one day to notice that an important reference point has been passed. It's a quarter empty! It's HALF EMPTY! But the perception that the water suddenly vanished is wrong: every action of every day effects the level.
I am learning that a big part of my training is sensitizing myself to the effects my actions have on my vitality. The exertion of full-time training, plus my master's insights about replenishing our energy, means that the level in my bottle drops and rises more noticeably, which with practice is helping me learn to monitor it and make good decisions that fill up the bottle.
I explained that so that I could explain this: I am starting to understand that the vital cost of my actions themselves is not as significant as the vital cost of the emotions engendered by those actions. A training day when I allow myself to be grouchy and negative is many times more draining than an identical day when I stay calm and positive.
This puts me in mind of some of the elderly individuals I have had the honor to know. Many of those who reach a great age and still seem vital and energetic are those whose characters are calm and optimistic. These individuals do not avoid effort in order to spare themselves the expenditure of vitality. But in their industry, they face each task quietly and purposefully. When the task is over, they do not bemoan the effort or overly celebrate it's completion. They seem calm and gratified.
Other people I have known, of all different ages, seem prematurely dissipated. They seem to have a greater emotional reaction to every new task. If they are working already, they complain of the additional work. If they are resting, they resent the end to their rest. When a task is finished, a celebration is in order, and in this celebratory play they are as excessive as they are in their work. Each action carries an unnecessarily heavy toll on the water in the bottle.
The key here is that the vitality in the bottle is not just sand in an hourglass, measuring out a lifespan. It is the essence that determines the quality of a life as well. Without the toll of negative emotion, there is more energy to spare each day on the things we do and the things we love, without diminishing ourselves.