Last week was an unusual week for our school. A Taichi and Kungfu forms competition was held here in Wudangshan. Our Master encouraged us to participate, on the grounds that it would be a valuable learning experience. And it was.
First, we learned what it means to prepare for competition. The week before the opening ceremony was jammed with extra practices. Master and the other coaches made time in their own schedules to go over the competitors' forms with microscopic attention to detail. In regular training, it is okay to feel your way through a form and make mistakes. For competition practice, the bar was set far higher, and it was cool to see people rise to the challenge. Hand technique had to be precise. Stances had to be both low and stable. Body technique had to be powerful and expressive. Eye technique had to be fierce and spirited. Everybody improved a lot. We got a sense of how we might someday prepare our own students for something like this.
It was also spectacular to watch Master teach. One can see him teach basics any day of the week. However, when he is pushing a talented student toward perfection, he becomes truly stunning. He is my master and I am constantly amazed by him, but I have never been more in awe of his skill as a martial artist and a teacher than I was when he was helping my classmates hone their forms.
Second, we learned about what competition is like and how it fits into our lives as traditional martial arts practitioners. Traditional martial arts is still difficult for me to encompass in a succinct definition, but it is nothing if not broad. Forms competition like this narrows our art. Set aside are defensive applications, internal health, mental calm and focus, and all the other parts of our training. A competition like this one is about performance, about showing the art. Judging is faulty and subjective, athleticism and flashiness usurp the place of practicality and discipline, and points and competitiveness replace the humble pursuit of  personal growth. These are truths of modern martial arts competition. But as martial arts evolves to survive in the modern world, it is avenues like this that keep it alive. Those of us who want to preserve our traditions must accept this, and shoulder the responsibility of ensuring that though the outlets for our art may be narrow, our practice always reflects kungfu's original breadth.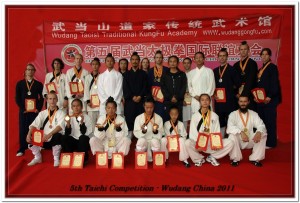 That said, the representatives from our school did very well in the tournament. Almost everyone got a medal, and most people got two or three. I hope that we made our Master proud. Personally I was most proud of the way our school demonstrated our brotherhood across the lines of nationality. International competitions like this one are praised by their promoters as being great meeting places for east and west, but the stark contrast of Chinese culture inevitably creates a line dividing that which is Chinese from that which is not. Nowhere in the competition did I see people cross that line so freely as did the competitors from our school. We are brothers and sisters first. Passports only count after that.