"A group becomes a team when each member is sure enough of himself and his contribution to praise the skills of the others." –Norman Shidle
I thought this was an interesting quote, especially when dealing with the family unit.  If we want our family to work as a team, there are steps to take first to ensure that everyone can be sure of themselves and the role that they play in the task at hand.
First, all members of the family need to have a clear vision of the end result and to see how it will benefit them and the rest of the 'team'.  Then they must realize that the part they have been asked to perform or they have accepted to do is an integral part of the whole picture.  Helping them to believe that they are important and responsible for a key part of the big picture.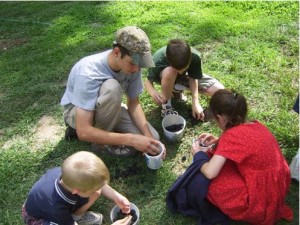 Being sure that each team member is capable of or been trained for their task will help to keep them focused and not get discouraged prior to the completion of the task.  Especially with children, we may believe that they know something that they have not mastered yet, and they may get discouraged.
Make sure the whole team knows what the end results will look like and keep them on track by developing a spirit of cooperation.  It may be that you will work together on a portion of the project – and be willing to praise the younger member for the contribution they are making.  If there are any complaints, be sure to address them quickly and work to keep the mood light and encouraging the entire time.  In the end reward your 'team' with praise for a job well done and with a special treat of something that they consider 'great'.
These steps will help us for work that needs to be done in the garden or in the house.  They will help the entire family focus on what is important to your family in education, spirituality, vacations or work in the community.
Henry Ford said, "If everyone is moving forward together, then success takes care of itself."