She is 98 years old.  There are only 3 persons in the world to this date awarded their 10th Dan in Judo.  At this moment there is a fourth and a woman.  She is Sensei Keiko Fukuda.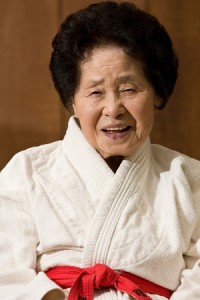 An amazing teacher with dedication to her art and her vision, setting the example for all others that would be a teacher of martial arts.  A great example to young people of the world, to set a goal and to work at it with dedication.
There is a filmmaker in San Francisco that has been working on a documentary about her life .  I have personally supported this work and look forward to the completion of the documentary.  In a post made a while back we showed a film clip about her life.  You may want to revisit that video here.   Be Strong, Be Gentle, Be Beautiful
Every student of the martial arts, no matter your style, should look at her example.