Marie Curie said, "Life is not easy for any of us. We must have perseverance and above all confidence in ourselves. We must believe that we are gifted for something and that this thing must be attained."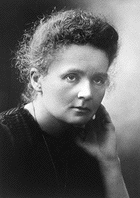 When you think about the goals you have already achieved you no doubt can look back and say that perseverance played a large part in accomplishing that goal.  Maybe it was riding your bike or learning to swim or conquering that math problem.  Each goal that you set out to achieve was conquered by doing the little things and not giving up.
It may not have been easy, but now that you know that if you work hard, put in the effort and get coached for knowledge and skill, you can accomplish anything that you set out to do.  This is important for every aspect of our life, including our academics, social or work we want to do on ourselves emotionally.  Step by step, little accomplishments when strung together with perseverance results in great achievement.  Great achievement will build confidence for the next goal that you want to reach.
In our next article on perseverance we will look at what to do when we do not think our child puts forth enough effort to reach goals and helping them learn about goal setting.  This will be a great way to start the new school year.