It has been my observation that the practice of martial arts revolves around the question of balancing training with injury. For the most practical, combative training, one probably wants to spar a lot. One adds rules to the sparring, because otherwise people get badly hurt. Even with rules, people get hurt sooner or later, so instead of hitting one another, martial artists often hit targets. This is important because one can not progress if one's training is constantly interrupted recovering from injury. Safer still would be hitting only air, but I can tell you even Taiji can hurt your joints pretty badly while you are learning to coordinate your movements. So it seems to me that every martial artist confronts this question every time they approach training: How am I going to do this today and still be able to do it tomorrow?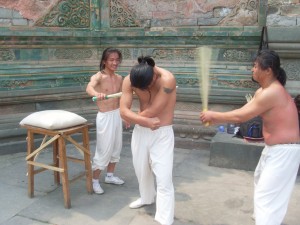 This is on my mind these days, because we have been training pretty hard and I am consequently in a bit of pain. We are expected to train if we are able, and none of my injuries are serious enough to demand that I miss training, but they are all painful and they create mental stress. This in itself is a form of training, of course; maintaining emotional calm when every movement hurts.
The conclusion people come to, I think, is that there are two kinds of pain, good pain and bad pain, and both are valuable sources of information about what is going on in your body.  Specific pains can be a wealth of information about the balance of strength in different tendons and muscles. Good pain tells you that you are going beyond your current limits and improving. Bad pain tells you that if you keep going, you will do such damage that your training will have to be interrupted by recovery. One wants to push the line that divides the two as far as one can, so that though training is difficult, it can remain continuous.
As for the injuries that do inevitably occur when training hard, I am not a doctor but my experience has shown me that rest is not the best cure. Rest is necessary, but attentive light exercise will stimulate circulation, help the metabolism deliver energy and nutrients to the damaged area, and reduce recovery time. At least that is what I hope will happen, because my ribs are really sore…:-)