As I start this blog, I want to try to give you a picture of my day to day existence.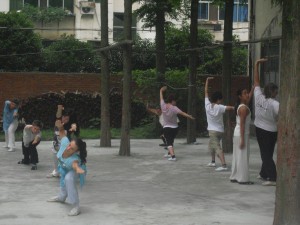 A typical day of training looks like this. We get up at 6:00 (this and all times vary by season) and do an hour or so of qigong, taiji, or other internal basics before breakfast.  At 8:15 we assemble outside the school, wearing our uniforms and carrying our weapons and other practice gear, and we walk alongside the wall of Yuxugong temple to the front gate, where we enter the temple and start stretching. After 20 minutes we begin warm-ups and basic exercises, which are usually low stances or striking combinations. After about an hour, we rest and then do some conditioning, usually sit-ups. After that, we go through our forms as a group — that is, standing in a grid pattern and practicing matching our speed and position to the students around us while trying to execute the movements clearly. Morning class ends at 11:00. We return to the school, eat lunch, and rest until around 2:45, and then we go back to Yuxugong. Afternoon practice usually includes kicking basics followed by more group form practice. At 5:00 we end class for dinner. At 7:00 we meditate for a little over an hour, and then we prepare for bed. Lots of rest is important for our training, so we go to sleep early and get ready to do it again the next day.
This pattern repeats Friday through Tuesday. On Wednesday we have a school performance where we show our master our forms and demonstrate our progress. Wednesday afternoon and Thursday we rest and clean the school.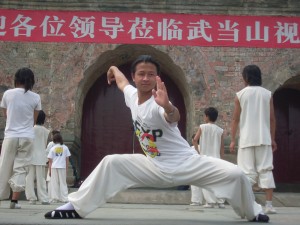 We students are organized into 5 classes. There is the Open class, for short term students, and there are four Traditional classes. Class One contains the coaches. They are students who have been training with our master for 5 years or more and who teach the Open and Traditional classes while Master rotates between them. Class Two is a group of teenage Chinese students who have been training at the school for roughly 2 or more years. Class Three is the traditional class for non-Chinese; my class. Class Four is the traditional class for newer students who are not yet ready for Class Two. This hierarchy also represents a structure of command to some degree, whereby this large and energetic group of people is coordinated and disciplined.
Though we have fun, I think people who have served and trained in the military or similarly rigorous programs might best understand the discipline and structure of our lives and how that feels. Living this way for a day or a week was challenging to begin with, but it is the unrelenting structure that is the most wearing and ultimately works such amazing changes in the students here. This is the backdrop I hope you will keep in mind as I write posts about the special and unusual things that happen to me.