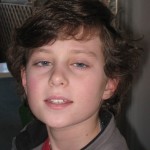 Dear Mr. Joe,
My name is James K. and I'm in the 9-12 year old class on Mondays and Wednesdays at Balanced Life Skills. One of my friends in school told me about his cousin who has suffered with cancer for three years. Each year he participates in the St. Baldrick's Foundation fundraiser. St. Baldrick's helps children with cancer. I decided to help too, and I found out that one in five children diagnosed with cancer will not survive.
I'm trying to raise money to help stop children's cancer, and I was wondering if anyone at Balanced Life Skills wanted to make a tax-deductible contribution of any amount. On March 12th at Fado's Irish Pub in Annapolis, I will deliver all the money I raise and that's when they are going to shave my head! In a show of support for children with cancer who lose their hair during treatment, fundraisers go bald. I can't believe Mom and Dad are letting me. They said it's for a good cause, and that my hair will, eventually, grow back.
You may also access my event webpage if you wish to make an online donation.
http://www.stbaldricks.org/participants/mypage/participantid/424611
For more information here is a St. Baldrick Fact Sheet describing the Conquer Kids' Cancer Project and The St. Baldrick's Foundation.