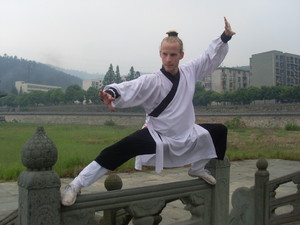 I would like to introduce the Balanced Life Skills community to Corey Hopp.  Corey has been living in China for the past year and a half studying Wudang Daoist Kung Fu.  He is preparing to return to China at the end of March, but in the mean time has offered our school the special opportunity to learn about Qigong (chee-gong)  a healing art including deep breathing and meditation.
On the website linked here, Corey is the 9th student from the left.  It is very cool to have a visiting instructor and we would like to invite any of the parents and others to come in during at the times listed HERE to for a demonstration class during the week of February 14th at no cost.  Starting the week of February 21, there will be a small charge for the classes that will last one month – prior to Corey returning to China at the end of March for more training.
This is a great opportunity to learn about this art and health form that I am sure everyone who takes part in will enjoy.