Throughout history in the business world we have seen some great partnerships.  Many times one partner was the visionary and the other one was the nuts and bolts person / investor – who knew how to get things done and make things happen.  Nonetheless as you look at this list we can be sure of one thing – together they had a vision that they agreed on and they could all see exactly what they wanted to accomplish.
Thomas Edison & J.P. Morgan & Vanderbilts  (commercial power companies)
Wright Brothers (air plane)
Sam, Jack, Albert, and Harry Warner (Warner Bro. entertainment)
Coco Chanel and Pierre Wertheimer (Perfume and more)
Bill Hewlett and David Packard  (computers)
Richard and Maurice McDonald (McDonalds)
Bill Gates and Paul Allen  (Microsoft)
Steve Jobs and Steve Wozniak  (Apple computers)
Ben Cohen and Jerry Greenfield  (ice cream)
Amnon Amir, Sefi Vigiser, Arik Vardi, Yair Goldfinger, and Yossi Vardi (instant messaging)
Larry Page and Sergey Brin (Google)
What a list of history making visionaries and accomplishments!   As parents we too must have a vision for our family, what we want it to look like and what it will be known for, how we want to be represented and what we stand for.  When we can make that vision crystal clear, when each of the parent / leaders is on the same page,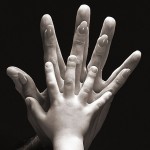 when the goals and outcomes are agreed upon, the results can be simply amazing.  Even if we came from a family that we know we do not want to be like, it is a start for creating a vision for our own family.
As parent / leaders agreeing on a vision is the first step in having an incredible team that is focused on an end result.  Working out the details and making things happen, with each partner sharing their responsibility and all on the team (family) being able to describe and fill their part of the vision in their own way, is always a continuing work in progress.
As a martial arts instructor who is the father of four grown children, I have a vision of helping children learn the importance of not only having goals but also not quitting on them.  My personal goal is to be a help to parents too, as an outside voice reaffirming the character and values that all of us want our children to have as they grow into young adults.