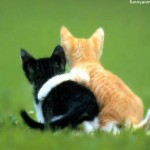 If we have a friend for a very long period of time, there is a strong possibility that we will have moments in that time where there will be disagreements or conflicts in the relationships.  I have personally seen friendships end abruptly in some adults due to all sorts of reasons.   They may go from hurt feelings to taking sides with a mutual acquaintance.  Many times the reasons when looked at through neutral eyes seem very petty and small.
Teaching our children how to deal with conflict in friendships is difficult and much of the teaching is not going to be done with our words – but rather our actions.  They will watch how we deal with our friends, listen to our conversations about others and observe the relationships we have within and outside of the family.  In talking to our students about disagreements we suggested to them that there were three steps that were needed to preserve our friendships.
Ask to talk about it and do so in a calm manner, carefully listening to their side before expressing our own feelings.
Apologize for the misunderstanding and our role in contributing to that misunderstanding.
Fix it. Find some neutral grounds that you can agree on and calmly resolving the issues.
This final step with adults especially may take time to resolve.   It is true that time many times heals the wounds that we are feeling, but we do not want to allow time to replace any efforts we could make to speak with our friends with respect and do what we can to maintain the relationships.