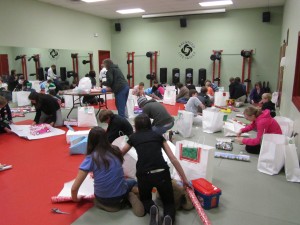 Last night we completed the gift wrapping for the foster children and loaded the bus.  There was no more room in the bus.  It was completely full.  While that was going on our older students and staff were working on giving each of the teens gift cards to department stores, restaurants and other stores that I am sure they are all going to enjoy.  Over 50 volunteers from Indian Creek School and Balanced Life Skills took part in this service project.
There was a great deal of joy in the room as our 9 year old students and some of their parents helped to do the wrapping, and so many parents and companies stepped up with gift cards totaling $4600.00 split among the 109 foster teens in the County at this time.  On Sunday there will be a Christmas party for all the foster children and their families at the Boys and Girls Club in Annapolis.
This is one of my personal favorite projects that we do during the year.  If anyone would like to be a part of our planning for next year please feel free to contact us.  I would like to wish everyone a Happy Holiday season this year.